My shoot with Ruby Roxx, the curve model and a lifestyle blogger was just astonishing. The shoot happened in late fall and the colours where in full swing which just made every pose pop that much more. Ruby's outfits where playful and of course sexy AF, she even brought in a naughty devil girl costume which was perfect, as Halloween was just around the corner. I can't wait to have her in my studio again in the Spring.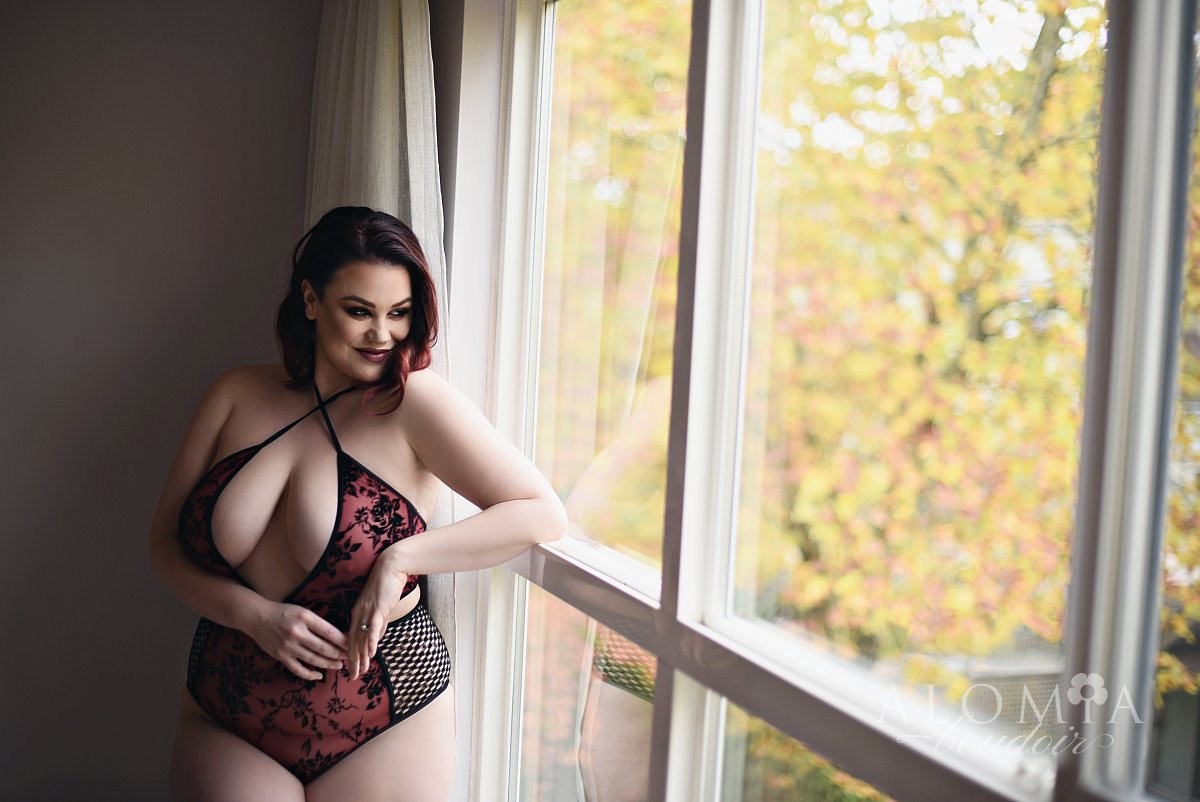 I cannot wait to work with Iwona again! We had such a fun time shooting and shot so many different looks, so we had a ton of variety! She was so easy to work with, gave great direction when needed, and made the whole experience really fun and rewarding. I love the photos I received and am so excited to come back soon for round 2!
- Ruby Roxx

A couple of weeks after the shoot, upon delivery of the final images I always ask my clients to fill out my post-shoot survey. The feedback helps me to not only improve myself as a photographer, but also make sure that my lovely customers are 100% satisfied with their sessions!

Here is what Ruby had to say:
What made you decide to book your boudoir session with ALOMIA instead of another studio?

I loved her use of natural light, and soft feminine aesthetic.
How were you feeling before your shoot? Any thoughts going through your mind?

I was excited but nervous as I always am before shooting with someone new. But the second I walked into the studio I felt like I was hanging out with friends I knew my whole life and felt very comfortable.
What was your favourite thing about your photoshoot experience?

Making new friends, spending the day being pampered with gorgeous hair and makeup, getting to play with gorgeous lingerie, and having a really fun, lovely time.
What would you tell other ladies who are considering doing a boudoir shoot?

Do it! Dont wait! The confidence boost is amazing, and no matter if you show the photos to everyone you know, or keep them as a sexy personal secret, you'll be able to look back for years and remember how HOT you were and how amazing you felt in that moment, and remind yourself how amazing and beautuful you really are!
What is the best memory from your photo shoot day?

Having so much fun choosing lingerie and looks, and hanging out with Iwona and Alex, doing hair and makeup and just having a super special, lovely day.
How did you feel after your session and did we miss anything?

Amazing!

The perfect way to surprise your significant other is by showing off your sexy, uninhibited, confident and beautiful side by sharing those amazing moments with him. Moments that are captured on a medium that never fades, and only grows in sentimental value over time. If you've been trying to work up the courage for your own boudoir shoot then check out my packages.


My job is to make sure you look your best in all of your photos. So just be yourself and follow my directions while we are shooting and I will capture some truly beautiful moments!
With Ruby's express permission I am sharing some of my favourite photos from her shoot! Please note that generally I will only refer to my clients as "Miss X", however because Ruby is a professional curve model she was more than happy that I mention her and her profile in my blog post.