Getting married is one of the most exciting times in a Bride's life. It's the beginning to your new future with the one you love, and what better gift than a shared memory that will last the test of time.

Bridal boudoir is becoming one of the hottest trends among Brides around the world. Body positivity is so important and we are excited to be able to create a beautiful time capsule of an incredible start to your new and exiting life.

Miss J did just that ~ Together we've created the perfect timeless gift for her future hubby, images of her gorgeous self that the both of them get to cherish forever.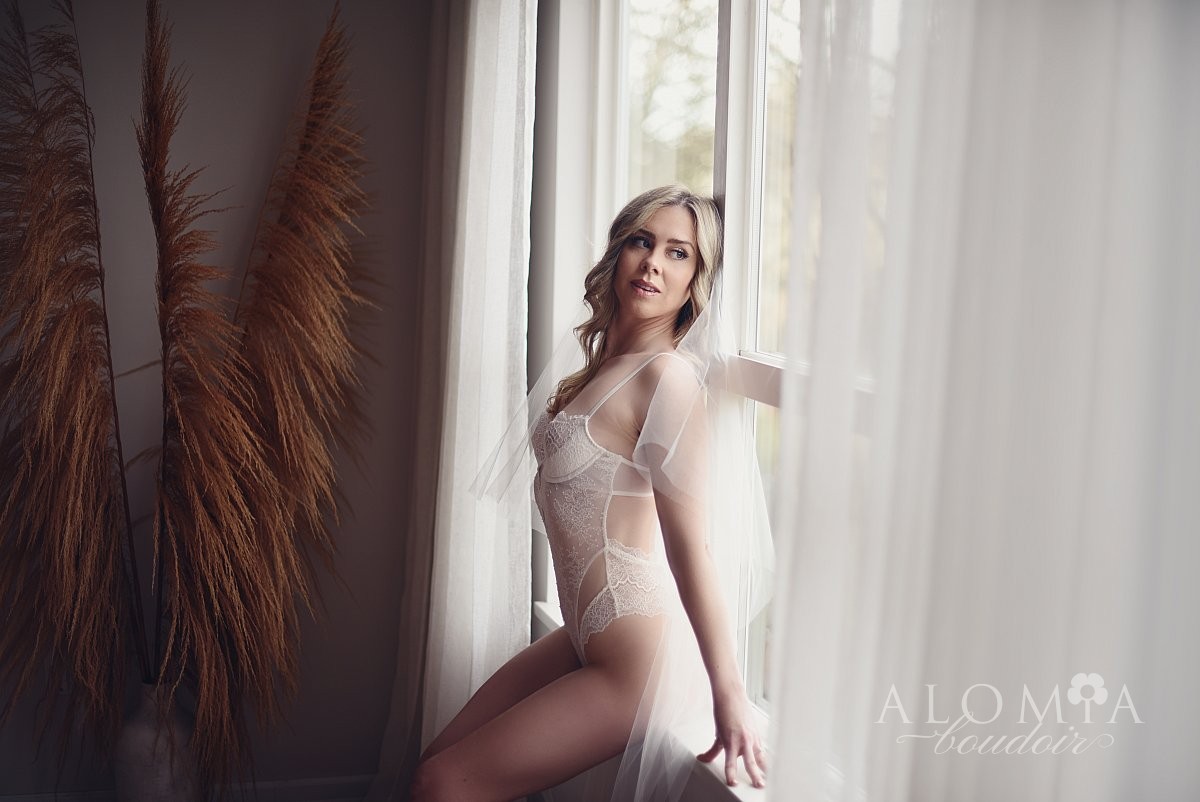 "I was blown away with the professionalism, support, and trust that I experienced with Alomia! I could not have asked for a better experience with Iwona, and I would encourage anyone looking for a boudoir session, to choose her too! You will not regret it, and in fact, you'll be planning your next session asap, just like me!!
Thank you again Iwona! I am so so happy with my whole experience, and especially the beautiful images that have come out of it."
- Miss J

48h after the shoot, upon delivery of a little sneak peek I always ask my clients to fill out my post-shoot survey. The feedback helps me to not only improve myself as a photographer, but also make sure that my lovely customers are 100% satisfied with their sessions!

Here is what Miss J had to say:
What made you decide to book your boudoir session with ALOMIA instead of another studio?
All of the reviews were very impressive! I could tell that Iwona made other women feel comfortable and confident, I knew that was what I needed. I also really liked all of the images and details on the website. Overall I chose Alomia because I was impressed with what they had to offer, and I could tell I would be supported throughout my experience.I loved the photos I saw on your Instagram page

How were you feeling before your shoot? Any thoughts going through your mind?

Very nervous! I didn't know what to really expect, I have never done a lot with photography before, and haven't always felt comfortable in front of the camera. I knew I would need a little help coming out of my shell, and Iwona definitely helped me do that!
What was your favourite thing about your photo shoot experience?

How fun it was!!! I enjoyed every minute of it, I felt confident, sexy and I felt like Iwona really listened to me, and respected what I wanted. And of course my other favourite part is the incredible images that have come out of the shoot! Images that I know I am going to love and cherish for life. I cannot wait to surprise my husband on our wedding day with such beautiful and special images.

What would you tell other ladies who are considering doing a boudoir shoot?

I have already passed on to a number of friends how exhilarating, confidence boosting, and special a boudoir shoot is!! Prior to planning this as a present for my future husband, I had not really considered getting photos taken of myself. In hindsight, I wish I had done it YEARS ago! You will never regret getting a boudoir shoot done, especially with Iwona!
What is the best memory from your photo shoot day?

How much I laughed and enjoyed myself! I quickly felt like I had known Iwona for years! She made me feel so at ease, confident and proud of my body.
All YOU need to do is book a session, show up, and I will do the rest!
Ladies bring anything that makes you feel and look sexy and don't forget to bring your vail if you're doing a bridal session. This is about you and your authentic personality, not about being someone you aren't.

My job is to make sure you look your best in all of your photos. So just be yourself and follow my directions while we are shooting and I will capture some truly beautiful moments!
With Miss J's express permission I am sharing some of my favorite photos from her boudoir shoot!