It finally happened! I got the pleasure to photograph my gorgeous makeup artist Vicky who is just as beautiful on the outside as she is on the inside, a truly loving and embracing heart and soul. Pregnancy is such an amazing time in a woman's life and I'm incredibly honoured that I was chosen to capture these precious moments that just as quickly as they come, are gone.

Miss V brought some fantastic outfits, included were; a few bras and matching panties, a fitted dress which looks great for those highly sought for silhouette images. Ladies bring whatever makes your baby bump stand out and glow, and just in case, I have a variety of outfits that you can use during your shoot; lace robes that come in a few different colours and sizes, cozy wraps, sheets and a beautiful faux fur vest.

I love capturing baby bumps as pregnancy is such a rare and amazing time in a woman's life. So take a cue from this stunning mama and document this miraculous time in your life!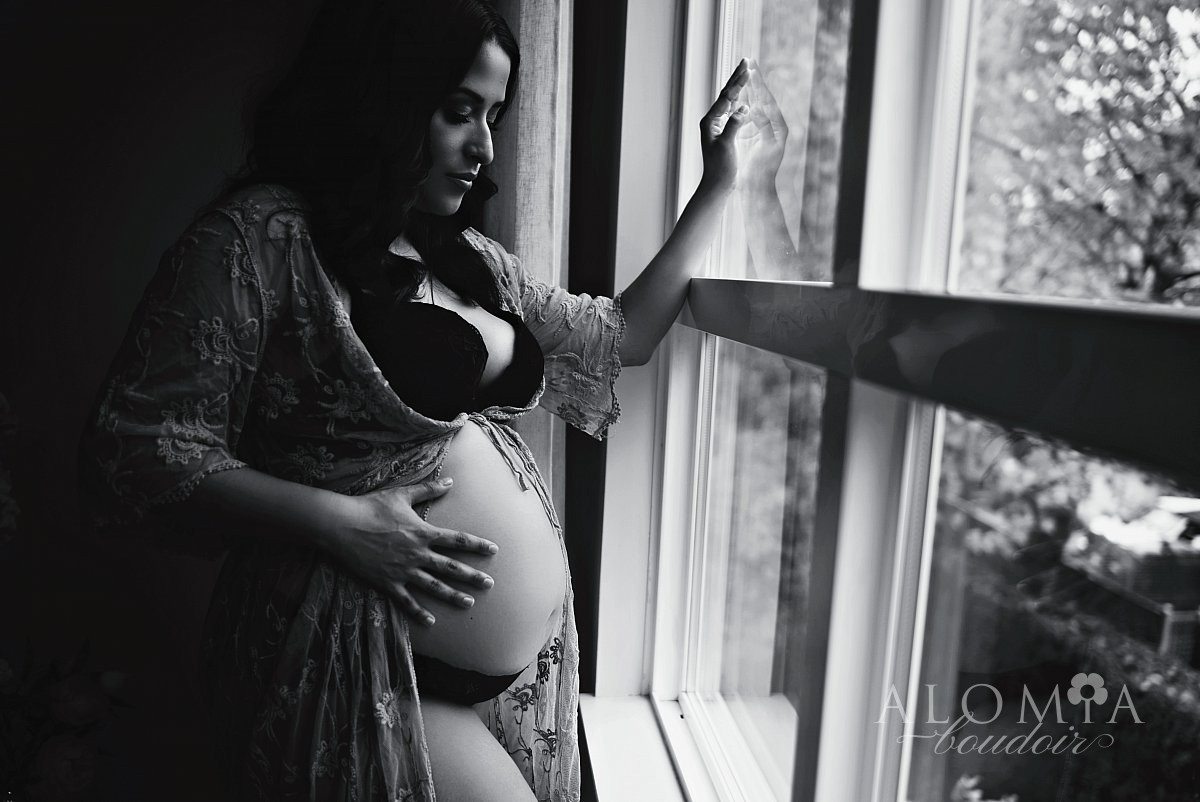 I am not one for lingerie or being in front of the camera, nor was I in the best shape of my life. But once we started shooting I felt confident, beautiful and sexy. Now I have photos that will forever reflect that! I would absolutely recommend Iwona to anyone considering a boudoir session, she is the best!
- Miss V

A couple of weeks after the shoot, upon delivery of the final images I always ask my clients to fill out my post-shoot survey. The feedback helps me to not only improve myself as a photographer, but also make sure that my lovely customers are 100% satisfied with their sessions!

Here is what Miss V had to say:
What made you decide to book your boudoir session with ALOMIA instead of another studio?

Her work is phenomenal and her personality makes you feel comfortable, empowered and confident.
How were you feeling before your shoot? Any thoughts going through your mind?

I was really nervous as I was very pregnant and not feeling like the sexiest woman on earth. After a few photos Iwona made me feel at ease and her guidance through out the poses was seamless.
What was your favourite thing about your photoshoot experience?

Being able to keep these memories forever, I wish I had made the decision to do a maternity session with my other two pregnancies.
What would you tell other ladies who are considering doing a boudoir shoot?

Just book it with Iwona! You won't regret it, you leave feeling empowered and sexy. You will come out feeling like a million dollars.
What is the best memory from your photo shoot day?

Laughing with Iwona and being reminded that pregnancy is a beautiful stage in life.
How did you feel after your session and did we miss anything?

Felt amazing!
My job is to make sure you look your best in all of your photos. So just be yourself and follow my directions while we are shooting and I will capture some truly beautiful moments!
With Miss V's express permission I am sharing some of my favourite photos from her maternity shoot!